The Secrets of The Voyages of Captain Basil Revealed
Arrrrrrrr me hearty hearties
It be good to be back in pirate garb, savvy?
If ye be wundering 'bout this post, ye can be checking out our epically epic pirate adventure before ye jump into this fray, as this be full o'spoilers which could be ruining your otherwise enjoyable journey...

So me seafaring pirating fiends, are ye ready to discover all the secrets, and get thee answers to thee questions that have been burning ye beds all this time?
Ahharrrrrrrrrrrrrr!
If ye remember in
Part I
, these were the questions:
How come The Crimson Revenge didn't get turned into toothpicks?
Ye will remember that this was revealed in
Part VIII
when thee crew discovered that The Crimson Revenge was actually a 21st century warship, just masquerading a seemly benign 16th century frigate.
What about Kitty Chrysalis Humphrey below decks?
In
Part II
it was revealed that Humphrey had been partaking in a little too much nip rum and other nip delicacies at
Speedy's Pirate pawty
. He was completely off his chops and had no idea at all that we'd been sucked into a whirlpool vortex of doom.
Where are all the crew?
Safe, sort of! MOL
And did they all get time to strap themselves to something secure?
Aye, we did indeedy, apart from Posie who nearly slipped overboard. That was touch and go fur a minute, but we got her. Oh and Parsley got raveled up in some netting and rope, one thing I did learn that day was Parsley's penchant fur cursing in sign language.
What about Smooch in the crows-nest, surely that mast couldn't still be intact?
Smooch, if mew remember as having a whale of a time, swinging upside down - that's just so typical of him though! Heathen child! MOL The main mast remained in tact, the smaller masts were a little wurse fur wear.
That whirlpool/water-funnel/storm is truly frightening, devastating, destructive, etc... can mew really survive it?
Yep, we can purretty much survive most things, as mew've seen from our previous adventures. We be a stalwart bunch of resourceful kitties. And when our tails are too thee wall we do effurything we can to offurcome whateffur comes our way.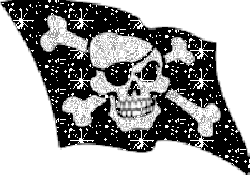 So until next weeks Pirate Q&A, shiver me timbers, get thee a bottle o'nip rum and a hammock, and we'll be seeing mew on the morrow!
Aharrrrrrrrrrrrrr me hearties and sail the highs sea's safely
Hearty purrs and salty sea-spray head rubs
Cap'n Basil & the Crew of The Crimson Revenge XOX