Welcome to


Pirate Q&A
The Secrets of The Voyages of Captain Basil Revealed
So me seafaring pirating fiends, are ye ready to discover all the secrets, and get thee answers to thee questions that have been keeping ye awake night aftur night??
And here we are fur the furry last expose of our amazing and often hair-raising pirating adventure
If ye missed the previous Q&A just be clicking the links below:
Did mew really use your mind to come back the future?
Yes indeed I did, but obviously with the magical assistance of the baby orb, without that I don't think we would have escaped.
Was Amsted really evil or is Horice really the trickster?
Amsted or as The Tabbies of Trout Towne now call him - DETSMA [too funny! MOL] - was a total fruit loop, yet I feel upon reflection he was just doing his job; trying to safe-guard the island and offur the millenia his purrception and ideals probably (defo) became warped.
Where exactly did the island go?
This is a complete unknown, we asked Horice if he had

a

clue to its whereabouts or whether the island had an inbuilt GPS system with pre-destined co-ordinates. He says not, and that it would be a zillion to one chance of effur finding it again. Which I can say purrleases me somewhat, as to be honest that's the last place on earth or in any realm I'd effur want to go back to.
What about the jewel on Horice's forehead, why was it missing?
Appurrently, the jewel as mew must have guessed is a magical thingumybob, and Horice can decide if it's visible or not. Sometimes he feels it's a little showy, hence its come and go vibe. Now mew see it, now mew don't!
That obelisk temple, what was that place?
We neffur actually got to see the Obelisk in purrson, but appurrently according the Horice, it was the heart and by that I mean the living, beating heart of the island where all the energy comes from and is stored underground. Like a giant tentacled web of power with an unknown quotient, I suppose we could call it magical life force of exponential value.
When Horice released all that stored power into the real world of 1683, that's what caused the strange green light anomaly to build up and finally at its zenith the island just vanished, it was a propurr 'Beam me up Spotty' supurr Trekkie moment. Thank all that is merciful that we were just and by just, I mean by the fur on our tails out of the blast range, otherwise who knows where we could have ended up... EEEK!
What happened to the large orb?
The large orb stayed on the island with Amsted [DETSMA MOL!] That's all I can tell mew about that.
And what happened to the baby orb The Creator gave mew?
The baby orb is safely tucked away in my secret, secret safe, the one that only I know the location or combination to, as aftur Parsley and Smoochie's antics with the Bazooka I'm not taking any chances with a magical item that could possible do anything, anytime, anywhere. Besides I may need to use it again at some point, mew neffur know what's around the corner.
Can we get a
miniaturizer ray gun?
Probably not a good idea. The temptation to miniaturize things can become rather addictive and before mew'd know it mew'd be a giant in a world of tiny peeps and stuff. So no, mew can't get a miniaturizing ray gun - I don't say this to be difficult, it's just I don't want to have to clean up your mess! MOL
How does it f
eel to be home?
Pawesome is an understatement, let's say it's so many levels of pawesome. My own bed, well one of about ten was a furry welcome sight to say the least. It was good to see the P.A. and get my ears tickled too, the rest of crew where delighted too; Amber slept fur nearly two days straight only waking fur food and pats. Humphrey decided to take care of the Kraken parts fur freezing as he said there's no point in wasting good tucker. Snowie and Angel Posie spent time with Horice helping him adjust to life in the bunker, even though he has 10 star accommodation on level 8 with his own tropical paradise located in a purpose built bio-sphere, it was still be bit of a shock fur him to be finally free of all the island chaos. He still says he misses his dolphin pals and we're wurking on device fur him to communicate with them back in 1693.
Smoochie and Parsley were so happy to be home because they were actually having Dreamie [treat] withdrawals and stuck to the P.A. like glue. [Heathens]
Will the P.A. really, truly honestly have a cow when she finds out about Horice?
Actually we were furry surprised when she didn't have a cow and instead just fainted on the spot when Horice appeared in the courtyard a few days later when he'd come up fur a bit of fresh air. It's not effuryday or like effur that mew see a hefflelump ambling in your garden now is it?
Aftur the initial shock wore off a tad, we convinced her that having a hefflelump around the place was a really great idea, especially when Horice showed her his most excellent lifting skills.
She said, "Wow, Horice mew are a god-send and let's go move some heavy stuff!"
What are mew going to tell the P.A. about why mew've been missing fur like effur?
I had to some clean about what had happened as there was no other way to explain Horice's sudden appearance in Sleepy Hollow. Aftur telling the story, she sat furry quiet fur quite sometime - this always unnerves me as when the P.A. goes quiet mew can neffur tell what the reaction might be. So aftur digesting this incredible tail she finally said, "Basil you really do get yourself into some very hairy situations and I will say this only once, next time you decide to go an a jaunt please leave me a note!"
And here's some more questions from our pawesome buddies - we know may have answered these at the time, but we didn't have all the facts, now we have more....
Erin the Cat asked

:

what did ye have fur supper and did the P.A. have it ready... AND how did you manage to get rid of that pesky sand that gets everywhere?
Believe it or not we had Felix pouches in jelly! MOL The sand was rather a nuisance but Snowie managed to re-calibrate one of the lab tools to attract the sand to one place and we moved it down to level 8 in the bunker.
Flynn said:

I know you are super clever Basil, so would I be right in thinking that you got everybody back home at the exact same time as you left? The PA would never know you had all disappeared. What I really want to know is, how did you build your huge bunker without the PA knowing? Did you send her off on holiday or something?
No Flynn, we arrived back a couple of days later, it was the exact same time frame we were away, as moving forward in time without all the facts and figures wurked out may have caused time-loop in which case we could have ended up at the exact time when we left Speedy's pawty and got sucked back through the water funnel thingy and it all happened offur again.
The now not so secret bunker is something I'm furry proud of, it came about out of necessity due to the nature of my old job at the F.I.B. [Field Intelligence Bureau]. The construction and excavation was carried out by an elite team Builder Moles who removed all the soil below the surface and deposited it into neighbouring gardens much to the chagrin of the peeps that lived there, who thought the the village and surrounding fields had suddenly got a massive mole epidemic and called in the exterminators. This tickled the BM's immensely and they took great purrleasure in making sure that effury morning there were fresh mounds of earth effurywhere! MOL
Obviously we didn't have any mole-hills in our garden so the P.A. remained completely clueless as to the massive undertaking that was happening beneath her feet
.
A

s construction continued the heavy supplies were brought in via a secret access tunnel at the bottom of Uncle Johns field and ferried up on a dinky, little narrow gauge train - much like those used in mines - it did take quite some time but offur the years the BM's have continued their stellar wurk adding new levels and new facilities, so it continues to grow which is a good thing as where else would I have put a Russian tank? MOL
I have to salute their ingenious tech savvy ways and say without them there'd be no way I could have gotten the facility I have.
The Tabbies of Trout Towne
asked:
W

HEN IZ IT GOIN TA PRINT...CAN WE GETZ AN AUTOGRAFFED COPPEEZ...WE IZ BUZZED GLAD HORICE IZ BAK WITH EWE....IS DE PA AZ HAPPEE...WUZ DE CREATOR REEL LEE....DE DOOD HIZ SELF......DID YUR AD VENSHURES ONLEE TAKE LIKE 5 HOURS IN NOW TIME; COZ YA NOE TIME WARPZ R LIKE CRAZED....WAZ HAM INN VENTED YET .......
Tabbies if it effur goes into print [we are still deliberating on this], of course mew can have a signed copy. The P.A. was supurr happy to see us. Yes is was the dude himself. No it all happened in real time. Ham was invented but not in the way we know it now! MOL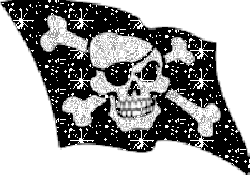 We would like to say a big thank mew to mew all fur following our story as without mew, our adventures wouldn't be half so much fun

...

we love th

e fact that

mew all have cat

-

on

-a-

perch-eyes

-

view of effurything as it unfolds.
Aharrrrrrrrrrrrrr me hearties and sail the highs sea's safely, until the next amazing adventure begins... I can feel in my fur that something is brewing, so w

atch this space!
Hearty purrs and salty sea-spray head rubs
Cap'n Basil & the Crew of The Crimson Revenge XOX